RemoteSpy - Installation Guide Continued:

Step 6 See Visual Reference

You are now logged into your RemoteSpy member account! There is not much to do here yet, because you have not configured an RemoteSpy monitoring module. The RemoteSpy module is a small file that is executed on the computer you wish to monitor. All activity on the monitored PC will be recorded and sent to your control panel, where only you have access to it to review recorded log data.




---

Step 7 See Visual Reference

To begin creating your RemoteSpy module, open the RemoteSpy configurator you downloaded in step 2-3 of this tutorial. Before you can create and save your custom built RemoteSpy module, you must validate your username and password. To do this, type in your username and password in the fields above. The username and passwords should be typed in exactly as you created them (in step 4). Once you have typed in your RemoteSpy username and password into the fields above, you can now configure the application for logging.

To set your logging options (the items in which you wish to have RemoteSpy record when it is executed on your computer) simply check off each of the items you wish to have monitored. For example, if you want to record Chat Activity, you would select "Log Chat Conversations" etc.


Once you have set your logging options you will be given the option to alert the user that is being monitored. This is called a splash screen warning. Obviously, you own the computer and know it is being monitored, but it is up to you whether or note you want to let the other users of your computer know that you are monitoring it. If you do not want the users of your monitored PC to be notified that they are being monitored,d do not check mark this item.

---

Step 8 See Visual Reference

Once you are finished selecting your logging options click create. If you receive an error stating that your account username and password are not correct ensure that you are typing in your username and password correctly. Remember, your username and password are both case sensitive, so they MUST be typed in exactly as you created then in the account creation process.

Also please make sure you have not added in any extra spaces or characters into the text boxes (other than your username or password), as this will cause problems with the validation process. If for any reason you cannot remember your please visit http://www.remotespy.com/fetchpassword.php to obtain them.

---

Step 9 See Visual Reference

Congratulations! You have now successfully built your RemoteSpy module and saved it onto your PC. You are one step closer to monitoring your computer. At this point, you have one of two options.
Option A: You want to monitor the Computer that you created the RemoteSpy module on and you would like the module to log all of the actions done on this pc.

Option B: You want to monitor another computer you own, but it's a computer that you do not necessarily have physical access to and you would like the module to log all of the actions done on this remote PC.

If you intend to monitor the PC you configured the RemoteSpy module on, simply click on the RemoteSpy module you created and it will begin monitoring within minutes. You can now login to your secure RemoteSpy members account to read the logs generated from this computer.

If you intend to monitor another PC and do not have access to install the module directly via CD or USB key, simple send the RemoteSpy module as an attachment to the PC you intend to monitor. The file must be executed on that PC for the monitoring session to take place.
---

Final End User Notice:

If you sent the email to a remote computer via email the user MUST open the executable attachment for RemoteSpy to begin monitoring. It cannot install on a PC if the user does not click on the attached RemoteSpy module.

Some email recipients and systems may block executable attachments from being accepted. This can be especially annoying as these systems prevent you, the owner of the computer, from downloading software onto your PC. On the other hand, these systems are in place to protect your PC. To successfully get the module onto your PC, you may need to compress the RemoteSpy module. To compress the file is to make it smaller without losing the data in the file and, thus, make it easier to deliver over email. There are many methods currently available to compress an executable attachment, so just do a search on Google or Yahoo if you aren't familiar with the latest methods. Once the file is compressed, then you can send the module to the remote computer.

Legal Notice: The execution of RemoteSpy on a computer you do not have rights of ownership to a serious violation of the license agreement and may well be illegal. You MUST OWN the PC being monitored, or have permission to monitor it from the PC's owner. Sending the spy module to a PC to maliciously record data without the owner's consent is illegal (and stupid). RemoteSpy may be used only in accordance with the license agreement to which you must agree in order to purchase and use the software. You must abide by all state and federal laws while using the RemoteSpy monitoring software.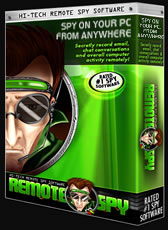 Automatically Records:
All Applications

All Web Sites Visited

All Chat Conversations

All Keystrokes Typed

All Display Screens

All Emails Typed

Plus Much More!

Automatically Records:
AOL Chat Rooms

AOL Instant Messenger

MSN Instant Messenger
ICQ Messenger

Yahoo Messenger

Trillian Messenger

All Chat Rooms
Can Secretly Record:

Your Children

Your Employees
Or Any User On Your Computer!
Our Bonus Features:
Super Stealth Mode

Password Protection

Realtime Recording

Automatic Recording

Inactivity Timeout

Fast File Searching

Log File Exporting

-------------------------------------
Shocking Facts:
[DID YOU KNOW]
57%
of people have used the Internet to flirt online.
[DID YOU KNOW]
38%
of people have engaged in online chats of explicit sexual nature.
[DID YOU KNOW]
31%
of people have had an online conversation that has led to real-time sex.
[DID YOU KNOW]
70%
of all Internet porn surfing traffic occurs during the nine-to-five work day.
[DID YOU KNOW]
37% of children have been solicited online for sex in the past year.
[DID YOU KNOW]
77%
of all U.S. companies keep tabs on employees by spying on their Internet surfing and e-mail.
[DID YOU KNOW]
27% of companies say that they have fired employees for misuse of internet connections.
-------------------------------------