Monitor Your Child, Your Employees, and any Other User On Your Computer Invisibly.

Do you need to find out what someone is doing online while using your PC? Is your spouse, child, or someone you know using your PC and hiding secrets from you? If so, RemoteSpy spy software is the perfect solution when you need this information quickly and invisibly. Now you can use the same spy software investigative professionals use to find out the information you need in total privacy. Remote Spy software offers premium features at an affordable price!
[TRY OUR USER DEMO]: SEE HOW EASY IT IS BEFORE YOU BUY!

---
[
Apr
15
, 20
11
]:
RemoteSpy 3.5 released.
Version 3.5 adds the ability to choose how often full-sized desktop screenshots are taken. You may now choose to take a screenshot as often as once a minute. Customers who have upgraded their screenshot storage will benefit from this lower limit, especially when making use of the screenshot playback feature. Additional enhancements include improved support for online search engine monitoring, instant messenger recording, and the monitoring of websites visited in the latest web-browser versions.
Remote Spy Features:
Powerful Computer Monitoring and Spy Software!
Internet Conversation Logging - Record both sides of all chat and instant message conversations (unlike basic keyloggers) for AOL, ICQ, MSN (Windows Live), AIM, Yahoo, GoogleTalk, Skype, PalTalk and XFire Instant Messengers. Find out who your employee, child or spouse is speaking with online while using your computer.


Screenshot Logging - Capture full-size computer monitoring screenshots of your computer's desktop. Visually see exactly what is occurring on your monitored computer at selected intervals. Optionally playback the entire monitoring session in the online viewer which operates like a VCR/DVR player.


Advanced Password Logging - Uncover and store usernames and passwords used on your computer even if the data is already present behind asterisks (***). Works for both windows applications and Internet Explorer websites featuring a password box. This is extremely useful in the case of a computer crashes when you've lost your data and have no other way to recover your valuable passwords and usernames: RemoteSpy can be your backup solution!


Window Activity Logging - Capture information on every window viewed and interacted with for maximum proof. All window titles will be captured secretly.


Application Activity Logging - Track every application/executable that was executed and interacted with on your computer. If they open an application on your PC, it will be recorded.


Keystroke Monitoring - Track all keystrokes pressed via a built-in keylogger [including hidden system keys!] and which windows they were pressed in. Keystrokes can also be passed through a formatter for easy viewing/exporting.


Website Activity Logging - Log all website titles and addresses that were visited on your PC. All information is recorded invisibly for you to view anytime! Supported browsers include Internet Explorer, Firefox, Netscape, Opera, Chrome and more!


Online Search Logging - Record all search queries performed in supported web-browsers for popular search engines like Google, Yahoo, Bing and more. Know when your child or employee is searching for inappropriate content.
---
Our Advanced Features:
Most Powerful Advanced Features
Individual User Monitoring - RemoteSpy separates all logs by username and computer name- perfect for monitoring multiple users of a single computer you own and share with others, or users across multiple computers you own!


Executable Module Creation - Configure your deployable RemoteSpy computer monitoring module easily by using the quick module configuration wizard inside of your RemoteSpy.com account. Point click setup makes it easy to understand and operate.


Intuitive Log Viewing - Logs are displayed in chronological order, allowing you to seamlessly toggle between recorded logs if RemoteSpy is recording multiple users, rather than aimlessly back tracking between user accounts.


Remote Log Removal - Clear log files remotely, requiring no interaction with your monitored PC. Simply give RemoteSpy keylogger the command, and log files will be removed from your account.


Log File Exporting - Easily backup logs to your computer with the export to CSV format feature.


Remote Uninstall - You do not need to physically access your PC in order to stop monitoring. RemoteSpy can be easily erased off of your remote computer with a click of a button!


Realtime Log Searching - Looking for something in particular, but don't have the time to search through the logs manually? RemoteSpy spy software offers built in log searching functionality to save you time and energy!


Keyword Alerts - Prefer to set it and forget it? With Remote Spy keyword alerts you can do just that! Just enter specific words or phrases that you would like to be notified of, and we'll send you an email upon their discovery.
---
Our Security Features:
Most Powerful Security Features
Unbeatable Stealth Capabilities - RemoteSpy offers many levels of stealth capability to prevent anyone but you from removing the software from your computer: you will have full computer monitoring control over your computer. RemoteSpy will not be displayed in the task manager, the process tab (under Windows NT/2000/XP/Vista), or anywhere else where it may be possible for the user to detect it!


Password Protection - Your online RemoteSpy member account is protected by your personal username and password chosen at registration. No one will have access to your information but you! The only way access is permitted to your RemoteSpy member account is if your username/password is correct - which only you will know!

1 Year Remote Access - Keep up to date with information recorded by RemoteSpy. You can view your logs 24/7/365 via your online member account - through any web browser, anytime regardless of whether the remote PC is online or offline! This includes free upgrades! Including free major upgrades and lifetime support.
Remotely Deployable - A commonly useful feature of RemoteSpy - it can be installed remotely via email, instant messenger, or any other file sharing/sending medium or service. Once the RemoteSpy file (created by you) is executed on a computer and selected to be installed, it will continuously record log data on your computer which you are monitoring. You can login anytime to your RemoteSpy account to view the recorded data in near real-time!
---
Our User Feedback:
See Our User's Positive Feedback
[User Feedback]

I have tried them all, the others are definitely inferior to RemoteSpy software!

[User Feedback]

Spy Software, LLC. you guys are great. Thanks for the wonderful product.
- Read More Feedback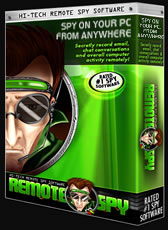 Automatically Records All:
Applications

Web Sites Visited

Chat Conversations

Keystrokes Typed

Display Screens

Emails Typed

Plus Much More!

Automatically Records:
AOL Chat Rooms

AOL Instant Messenger

MSN Instant Messenger
ICQ Messenger

Yahoo Messenger

Trillian Messenger

All Chat Rooms
Can Invisibly Record:

Your Children

Your Employees

Or Any User on Your Computer!
Our Bonus Features:
Super Stealth Mode

Password Protection

Realtime Recording

Automatic Recording

Inactivity Timeout

Fast File Searching

Log File Exporting

-------------------------------------
Shocking Facts:
[DID YOU KNOW]
57%
of people have used the Internet to flirt online.
[DID YOU KNOW]
38%
of people have engaged in online chats of explicit sexual nature.
[DID YOU KNOW]
31%
of people have had an online conversation that has led to real-time sex.
[DID YOU KNOW]
70%
of all Internet porn surfing traffic occurs during the nine-to-five work day.
[DID YOU KNOW]
37% of children have been solicited online for sex in the past year.
[DID YOU KNOW]
77%
of all U.S. companies keep tabs on employees by spying on their Internet surfing and e-mail.
[DID YOU KNOW]
27% of companies say that they have fired employees for misuse of internet connections.