Spy Software News Updates
What's New @ Remote Spy
Read the following information below to remain up-to-date on the current version of RemoteSpy. Remember, we will always update you when a new version becomes available for download. All members will instantly be given the upgrades free of any charges. This is just one of many reasons why our customers always remain satisfied!
---
[Apr 15, 2011]:
RemoteSpy 3.5 released.
Version 3.5 adds the ability to choose how often full-sized desktop screenshots are taken. You may now choose to take a screenshot as often as once a minute. Customers who have upgraded their screenshot storage will benefit from this lower limit, especially when making use of the screenshot playback feature. Additional enhancements include improved support for online search engine monitoring, instant messenger recording, and the monitoring of websites visited in the latest web-browser versions.
[Jun 5, 2010]:
RemoteSpy.com adds Screenshot Playback
Viewing your screenshot logs has never been easier with the addition of the screenshot playback feature. Instead of using the list view or thumbnail views, you may now sit back and watch as your computer's usage activities are played back for you. Pause, fast-forward or rewind just like you would on a VCR or DVR recorder.
[May 29, 2010]:
RemoteSpy.com adds Keyword Alerts
Customers will now find the option to enter specific words and phrases that they would like to be notified of. Simply provide an email address, and RemoteSpy will automatically notify you if your chosen words or phrases are used on your monitored computer.
[May 22, 2010]:
RemoteSpy.com welcomes all customers to the new and improved version of our monitoring software and online members area.
RemoteSpy.com has received numerous updates to provide you with a more efficient and information rich experience when reviewing your computer's remote spy software logs. Now directly view online search terms used in popular engines such as Google, Yahoo, Bing and more. View screenshots in thumbnail view for a visual quick peek. Also, enjoy more control over your logs with selective sorting, clearing and exporting.
[April 22, 2010]:
RemoteSpy 3.0 released
Version 3.0 (2010) of RemoteSpy is now available to both new customers and past customers who choose to upgrade early.
[June 15, 2009]:
RemoteSpy 2.7 released
New in version 2.7 is updated support for popular chat messengers and web browser applications.
[Dec 28, 2008]:
RemoteSpy.com members area security upgrade
RemoteSpy.com has received a security upgrade for both customer accounts and when reviewing your computer's remote spy software logs. More securely view your computer monitoring activity from any web-browser connected to the internet.
[Mar 25, 2008]:
RemoteSpy 2.5 released
New in version 2.5 is improved AOL 9.1+ support as well as brand-new website and password recording abilities for Internet Explorer 8.0 beta.
[Mar 6, 2008]:
RemoteSpy 2.4 released
New in version 2.4 is higher screenshot quality for a better picture of what visually occurs on your monitored computer's desktop. Vista compatibility has also been improved for easier installing of the RemoteSpy module to a Windows Vista computer.
[Feb 12, 2008]:
RemoteSpy Releases Version 2.3
Version 2.3 features Optimized document logging and application logging for better performance. Improvements were also made to the re-deployment or upgrade process when installing a new RemoteSpy module over a previous installation.
Recording options and settings per PC are now viewable in the system information log.
A new configuration option has been added to the Create Spymodule tool, "Check Internet Connection". In some network setups Windows incorrectly reports the connection status of the computer to an internet device. By not selecting this option, you can now set RemoteSpy to attempt to upload logs independent of the reported internet connection status.
Note: Not selecting this option on dial-up connections can cause a popup window prompting the user to connect to the internet.
[Jan 22, 2008]:
RemoteSpy Releases Version 2.2
Version 2.2 now supports the recording of PalTalk Messenger. Other already supported messenger clients such as ICQ, Skype, and Yahoo now have their latest versions supported as well for logging.
The web-based Create SpyModule tool has been updated with an additional stealth options - Enhanced Firewall Bypass. Version 2.2 of RemoteSpy features a more powerful automatic firewall configuring and when combined with the new enhanced option clients are better prepared than ever for dealing with troublesome firewall or routers.
Other changes include updated anti-detection and various other minor fixes. This update is highly recommended for increased monitoring options and better stealth operation.
[Oct 4, 2007]:
RemoteSpy Releases Version 2.1
Version 2.1 now features Firefox, Mozilla and Netscape website recording support for the latest versions of these browsers. The advanced password recorder has also been improved to be backwards compatible with Internet Explorer 6.
The following new features are now live in the RemoteSpy client, but are awaiting final activation in the RemoteSpy web-panel (for usage and viewing). These additional enhancements include the ability to clear individual log types, compared to the current option of only being able to clear all logs. The screenshot recorder now permits storing multiple screenshots in your account area. The software can now store up to 100 screenshots at a time for each user account on the monitored computer. The web-panel version upgrade is scheduled for October 8th. We expect zero downtime during the upgrade.
[Aug 19, 2007]:
RemoteSpy Releases Version 2.0
Version 2.0 adds brand new monitoring features such as Last Screenshot recording (providing an exact picture of the monitored desktop) and an advanced dedicated Password logger (record passwords and user logins already stored in the system shown behind asterisks inside applications and Internet Explorer webpages). Additional features include a system information log, for knowing your monitored PC's RemoteSpy deployment date, last log update, RemoteSpy version number, Microsoft Windows version and More! A number of small bugs were fixed and the built-in diagnostic now provides internet connection trouble shooting as well.

Note: Dedicated Password logger uses additional cpu, and is not recommended for low-end systems. Your mileage may vary so please only enable this option if you have the ability to alter the setting at a later date by redeploying a new RemoteSpy module. Alternatively, a good portion of passwords will be recorded via the keystroke recorder.
[Aug 3, 2007]:
RemoteSpy Releases Version 1.9
Version 1.9 provides support for AIM Instant Messenger 6.x (Triton) and provides a built-in diagnostics for trouble-shooting. The latest version also features smaller memory usage for better system performance and greater stealth. This free upgrade is highly recommended.
[Dec 23, 2006]:
RemoteSpy Releases Version 1.85
Version 1.85 provides support for GoogleTalk and Skype Instant Messengers plus various other minor tweaks and stealth optimizations.
[Jul 10, 2006]:
RemoteSpy Releases Version 1.8
Version 1.8 provides support for Yahoo Messenger Voice and various other minor tweaks and optimizations.
[Jun 22, 2006]:
RemoteSpy Releases Version 1.7
Version 1.7 features new and improved keystroke logging capabilities and an assortment of small enhancements.
[Jun 15, 2006]:
RemoteSpy.com adds a web-based spymodule configurator
Customers can now enjoy easy access to their configuration software at anytime by logging into their administration area. RemoteSpy can now be instantly configured from any internet enabled computer and deployed if desired.
[Jan 30, 2006]:
RemoteSpy Releases Version 1.6
Version 1.6 adds additional anti-detection routines to help you install the software on your computer without having to disable your anti-spyware and anti-virus software.
[Jun 23, 2004]:
RemoteSpy Releases Version 1.3
Version 1.3 addresses MSN messenger 6.0 and Yahoo messenger 6.0. This update enabled RemoteSpy to record the latest versions of these two popular messengers.
[Jun 17, 2004]:
RemoteSpy Releases Version 1.2
Version 1.2 addresses CPU load optimizations, and can now bypass XP firewall restrictions with no further problems. This update also included minor changes.
[Jun 15, 2004]:
RemoteSpy Releases Version 1.1
Version 1.1 addresses decreased bandwidth usage, faster ftp log updates @ 15 minutes, Uninstall individual users also updated to be function more effectively.
[Jun 9, 2004]:
RemoteSpy Releases Version 1.0
RemoteSpy "High-tech Pc Surveillance" has been released for commercial and home users. Accounts can be purchased online at $89.95 for 365 days access.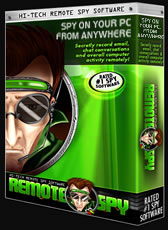 [Current Version]
Version

:

3.5
File Size

:

324kb
Support

:

24/7
[To view a User Demo:]
Username

:

demo
Password

:

demo
User Login

:

Click