Computer Spy
Computer Spy Info Guide
A Computer Spy is an individual who uses stealthy methods to monitor the information on a computer. A computer spy might use software or hardware devices that will secretly record your computer and internet activity. Obviously, if you own the computer being monitored, then it is often perfectly legal to be a computer spy. If, on the other hand, you do not own the computer you are monitoring, or if you don't have the consent of that computer's owner, then you may be committing a crime. Never, ever monitor a computer you don't own or don't have permission to monitor, because doing so can subject you to criminal prosecution.
---
A Definition of a "Spy"
Dictionary Term Meaning
An agent employed by a state to obtain secret information, especially of a military nature, concerning its potential or actual enemies.


One employed by a company to obtain confidential information about its competitors or documents of information.


One who secretly keeps watch on another or others in an act of spying. One who secretly watches over another covertly.
---
Do you need to be a computer spy? If so, we offer a powerful but professional remote computer spy application called "RemoteSpy". However, you absolutely must use our application in accordance with all state and local laws. At the very least, you must own the computer on which you are spying or have the permission of the owner to do so. Did you know Remote Computer Spy can record:
All Users Internet Activity.

All Keystrokes typed on a PC.

All Chat Messengers + Conversations.

Run silently completely hidden.

---
Other Related Words:
computer spy, computer spy software, computer free spy, computer software spy, computer spy ware, computer spy program, computer spy software free, computer monitoring spy software, computer spy camera, spy on other computer, computer spy remote computer spy.

Computer Spy Software:
If you need a product that can help aid in an investigation of the activity on your own computer, then you may want to consider RemoteSpy. The product may not be used for illegal activity, but you can purchase a copy if you need remote monitoring capability to monitor a computer you own at your home or to record your child's Internet activity. It may also aid you in your investigation by providing detailed information about the actions performed on your computer when you are away!


Remote Spy Information Guides
Cheating Spouse - Keystroke Recorder - Computer Spy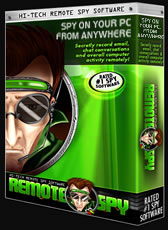 Automatically Records:
All Applications


All Web Sites Visited


All Chat Conversations


All Keystrokes Typed


All Display Screens


All Emails Typed


Plus Much More!

Automatically Records:
AOL Chat Rooms


AOL Instant Messenger


MSN Instant Messenger

ICQ Messenger


Yahoo Messenger


Trillian Messenger


All Chat Rooms
Our Bonus Features:
Super Stealth Mode


Password Protection


Realtime Recording


Automatic Recording


Inactivity Timeout


Fast File Searching


Log File Exporting

-------------------------------------